ProProfs Online Training Software in Beta – Review
One of the biggest hurdles facing hiring firms is the training of employees and the need to bring them the information they require to succeed in their position. While presenting information in its raw form is easy, presenting it in a manner that facilitates learning with a strong grasp and true understanding of concepts and ideas is another matter altogether.
Fully Hosted Training Courses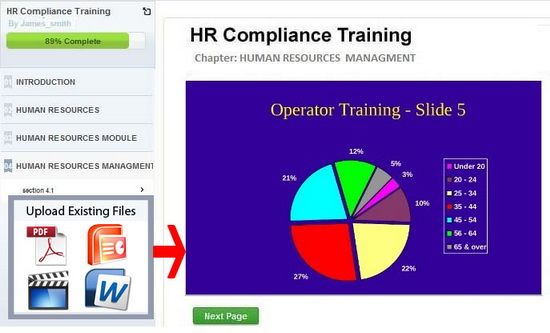 This is where the unbeatable online Training Maker software available from industry leader ProProfs.com comes into play. This full-featured software suite, all hosted in the cloud, offers you the power to utilize existing documents or create new ones as you create online training on any topic you require. Courses are built step-by-step and page-by-page, allowing you to present data in any order and at any pace you like, depending on your needs and the abilities of those taking your training.
Use Existing Documents & Media
If you're coming into the creation of your online course with some materials already created and in hand, you're in luck: the online ProProfs experience includes the ability to easily include these into your training course. Whether you've compiled data in PDFs, PowerPoint presentations, created videos outlining the topic at hand or have images to add graphs or other visual data to your course, ProProf's easy article editing environment offers a simple and familiar way to insert the media files of your choice.
Create New Documents Quickly & Easily
When starting from scratch, whether a single page or an entire course, the ProProfs experience proves adept, giving you simple tools to format text and add media as needed and creating beautiful, functional documents that will make information easy for your trainees to soak in. With an interface akin to every popular rich text editor you've ever used (think Microsoft Word), even users completely unfamiliar with the concept of creating training courses will feel right at home.
Your Confidential Information is Safe
Do you want to offer a training course that would present confidential information meant only for the trainer and trainee? ProProfs Training Maker solution makes it is to limit access to your training course to only the users you specify, giving you the ability to keep your training course safely behind a unique username and password.
Finish With a Comprehension Quiz
No training course is complete until the trainer is sure that those taking their course are intimately familiar with the required information and what easier way to test this then by including a custom built comprehension quiz right into your training course? Build a quiz on any topic and then track each trainee's score; the built-in statistics even make it possible for you to track times, scores and other variables across all quiz-takers!
Conclusion
There is simply no product better suited to the needs of trainers, whether elementary school teachers or human resource managers, than Training Maker by ProProfs. With the ability to do everything mentioned above and more, combined with service plans starting with free options, there is no better way to offer online training.