---
Social media is a part of daily life for most of us. It has just taken over, and who can blame us for going so crazy over it? From Facebook to YouTube, there is something for everybody. Gone are the days of badly maintained Livejournal accounts… now we have the real deal.
Even businesses have an interest in social media these days. If you aren't running a social marketing campaign, you just aren't engaging properly with your demographic. Customers expect to be able to contact a company directly through Facebook or Twitter, for example. It can actually be a factor in losing their business if they can't, and so many bigger companies have hired customer service agents and social networking experts to man their accounts.
You can make things a lot easier on yourself with the right tools. These are give that are excellent for simplifying social media use, whether it is personal or professional.
1. Engagio
This is a great tool. It works by connecting to your social media profiles and collecting message from your account and those of your friends to make a single communication hub similar to an inbox. Sign up through Facebook, Twitter or Disqus, and keep track of all conversations. This is perfect for people like me that frequently comment on blogs and news sites, allowing you to follow responses without digging through comments.

Connect to your Facebook or Twitter account, and measure your marketing effectiveness through analytics. Then get suggestions on how to improve, and the tools to do it. It is a professional service used by many businesses, such as the LA Times, Ben & Jerry's and JetBlue. You can also schedule content and get an insight into the kind of people who are following your updates.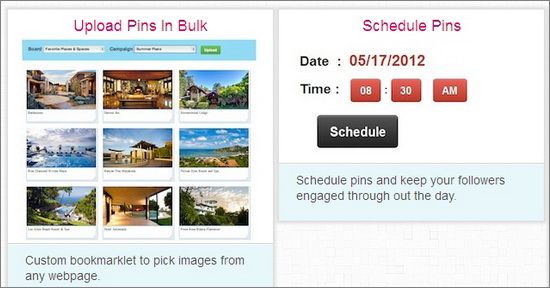 Pinterest is still new enough that it doesn't have a whole lot of tools that help you to maintain your account. Part of this is due to the difference in analytics and the way you measure data with visual content. This tool is more basic than any of that, allowing you to schedule pins to go out in the same way Facebook and Twitter schedulers do. They also have a metrics section that gives a simple look at pins, repins, comments, likes and trends.
Google Alerts is an amazing tool with a large number of uses. I am a frequent user myself. You can also use it for tracking social media, whether your own account or that of a competitor. But I am more fond of it as a reputation management and link tracking tool. Use it to track your brand, alerting you whenever it is mentioned.

You have probably heard of Hootsuite, as it remains one of the most popular social media dashboards available. Track Twitter, Facebook, Google+, LinkedIn, Foursquare, Myspace, WordPress, Mixi and even add various apps from sites like Flickr. Manage messages, get custom analytics, schedule updates, increase security, allow access for teams and more. They have both a free and a premium service, which costs $9.99 per month. There is also an enterprise option that is new, with custom pricing. You can try their demo for free.
Do you have a social media tool you are especially fond of? Let us know in the comments.